New Year, New Goals, New Plan
If you find yourself making the same old resolutions this year and want to focus on something with a greater purpose, how about an estate plan to ensure that your family isn't left with a hefty burden due to your disability or death? One of the biggest misconceptions is that only wealthy individuals need to concern themselves with estate planning – a misconception can result in unnecessary costs to the estate and additional financial burdens to your loved ones.
As described by the Central Arizona Estate Planning Council, the purpose of an estate plan is "to develop a strategy that will maintain the financial security of individuals through their lifetime and facilitate the intended transfer of their property and assets at death, while taking into consideration the unique circumstances of the family and the potential costs of different methods." Simply put, an estate plan contains a written set of instructions to your loved ones as to your care should you become incapacitated and how you want your estate to be distributed after your death.
You might be wondering: What exactly happens to my property if I don't have the necessary estate documents in place before I die? All 50 states and the District of Columbia have their own laws on estates and probate and they all include intestate succession; in other words, if you don't have a will, the state will make one for you. But the question you should also be asking yourself is this:  What consequences will my family and loved ones be left to face if I don't have a plan in place? Without the necessary estate documents, you risk: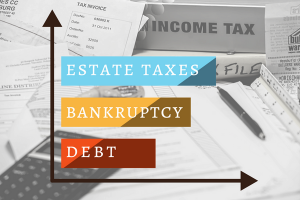 Losing control over who gets your property and how it might be used;
Not getting to choose who cares for your minor children and how;
Losing control over your own care, should you become incapacitated;
Your family having to spend more money handling the estate than would have been necessary;
Your loved ones getting cut out of their inheritance because of a technicality;
Your estate becoming exposed to creditors;
Having to pay estate taxes on whatever the IRS and administrators agree its total value is worth;
Your assets getting locked up in probate, which can take from 6 months to several years;
Your family having to wait for access to your assets until the probate process has been completed;
Leaving it up to the courts to decide the appropriate distributions of your property.
As you can see, estate planning is about more than deciding who gets what and when; it is the key to avoiding unnecessary financial and emotional burdens that could befall your loved ones.
While the cost of an estate plan varies depending on the complexity of one's situation, it pales in comparison to the stress and chaos your family will likely face if you fail to plan for your future and theirs. An estate attorney can help you decide which documents will ensure your legacy is protected and your wishes carried out with ease.